Le Warped Tour 2003!!!!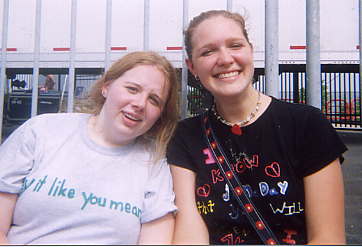 Maddi and I after the TSL show. We were totally trashed. it was so wildly violent. It was really fun though, and apart from this pause, we were sitting on the ground singing along to the last song, "Best of Me." It was cool because at the part where he was like "we're sitting on the ground, and we whisper, say what you're thinking right now." we were sitting on the ground, but we sure didn't whisper.
Maddi and Matt from TSL. Isn't he adorable??? not as cute as Kenny or Tyson though. (Kenny is from TSL, lead singer, way hottie. Tyson is from AAR, also hottie.)
me, sitting on the grass after the TSL show recovering alone with the rest of us.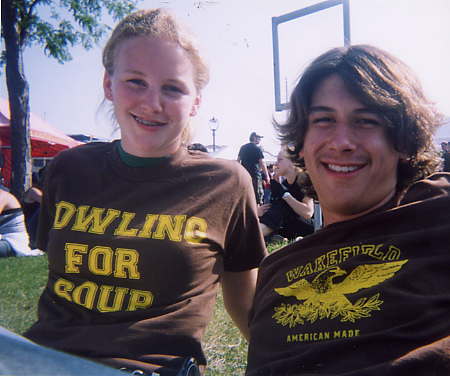 Josh and Sadie wearing matching colored shirts for two different bands. Isn't Sadie cute?
me getting ready to punch Josh because he's stupid.
Maddi hiding from the sun because it was just burning her to pieces and she had to get her picture taken for school the next day and didn't want to be sunburned. I forgot that I had pictures the next day too, but if I was sunburned, oh well, who cares. That's what retakes are for.
Maddi looks...like a nun. and it's funny. She's protecting herself from the sun once again.
Ah, and this is our gay guy, the Italion Stallion. He was dancing around to Britney Spears, it was hott. He was like, singing to Maddi and grabbing her hand, and he had braces!!! it was so cute. We wanted to find him after and get our picture taken with him, but we couldn't find him. Oh well, it was fun.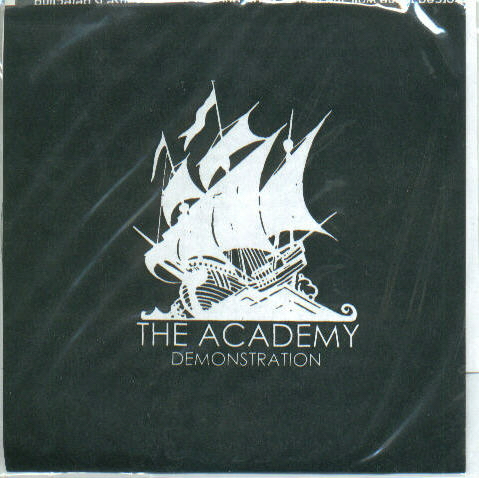 That's me hugging Bill from The Academy. He was just so cute. He had been talking and then I was just like, "can I hug you?" and he said yes, so I hugged him. He's just a doll, look at that smile. *sigh* too bad he lives by Maddi. lucky girl, all the cute boys are in Illinois!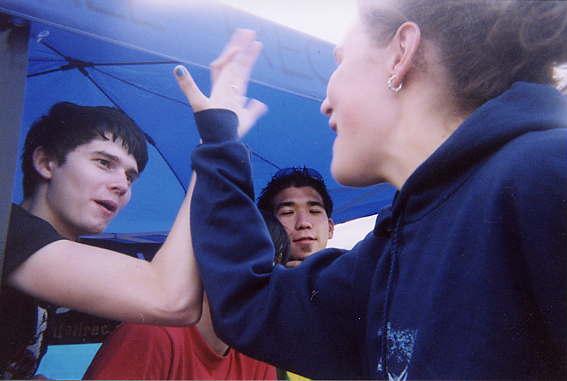 Bill doing the handshake he taught me with me. "1-2-3, 1-2-3, BOP!" spread it around, do it on beat. It's awesome.
Maddi with the guys from The Academy. Her, Bill, the other cute guy, and the other cute guy that let Maddi buy the shirt right off his back because she wanted an Academy shirt that wasn't black. It's awesome. They were all such cool guys.
truth picture.
This isn't from the Warped tour, but I had to put it up here because, it's just cool. The guy in the blue is Erik, and the first time I met him I was so positive I knew him from somewhere. Me and Maddi think we have figured out how, but he's still cool. He's my cousin ya know? but technically we're enemies because I'm a good spy and he's an evil villain. The other guy is Mark and he has a white fro and I think he's really really cute even though Maddi doesn't agree with me at all. I don't think Erik would either. A good thing I think.