SUGAR:
(yup, that's me!)
These are a bunch of pictures that I have no idea what to do with and they are scattered all over and from a whole bunch of things. check them out.
It feels so short, but I really really like it. My hair is a totally different color now too, and I didn't even do anything to it, it just sort of happened. It looks pretty red doesn't it? My smile is so totally fake in that picture.
The smile is a bit more real in this one, probably because Jesse's taking it, and he's my buddy fo-ever.
Junior year's school pic...not too bad, at least it's better than last years.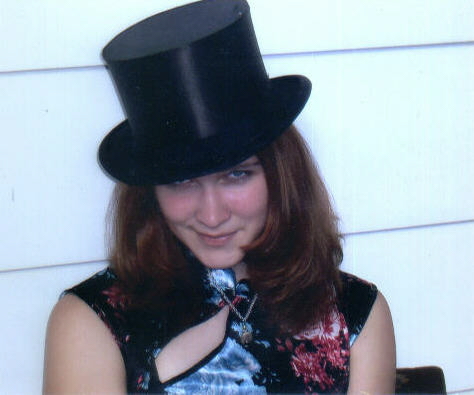 In Germany, during the party, Opa gave me his top hat, and I gladly wore it the rest of the time I was there. It was really quite comfortable. Maggie says I look like Satine from Moulin Rouge in this picture. I sort of agree, but I really really wish that my hair was that color again. Badly.
In Paris, I was in a hotel room all by myself, and I got really bored. So...the result was me taking some pictures of myself with the camera. This one and the next one are just two examples, I took at least 5. It's amazing the creativity boredom will bring on. This is my "ah! camera shy!" picture...
and then I guess this would be a sort of cocky wink picture. I really just wanted to see what I look like when I wink. lol.
This is definitely my all time favorite picture of myself, even if it is a little blurry, I just love it. This was taken at Sam's the summer before freshman year. Right before we went out cruising. I still have the CD with all of our songs from that summer on there. It's been awhile, hey?
My publicity shot for You're A Good Man Charlie Brown in 8th grade. It's not a good picture, but it's cool because it's black and white. It was the funnest show ever. It was all about the rabbit chasing. I almost really jumped.
"Happiness is morning and evening, daytime and nighttime too, for happiness is anyone, and anything at all, that's loved by you."
The Dells the summer before freshman year...this thing freaked me out like you wouldn't believe. I finally withstood it at Six Flags on the choir trip at the end of this year after the spring concert. I was so proud of myself. Still afraid of that stupid thing.
I wore this dress to my aunt's ceremony in Kansas City. I love this dress. it still fits, and it is so gorgeous. Just looking at it and knowing that I wore it makes me feel like a princess.
um....this one is a bit beyond explanation. It really is. I was laughing so hard I had tears streaming down my face for like 15 minutes. You had to be there I guess...lets just say I'm pretending to be a bug...lol...and then I moved on from bug....to SUPER MAMMAL!!!!!!
Yes, I know that I am strange, but if you would like to remind me, you can go ahead and do it. do you realize how many calories laughing burns??? I must be the healthiest person alive because I never seem to stop laughing. I don't think that moment would have been possible without the assistance of Jesi.
this is me and my David. he was my senior buddy last year and one of the coolest guys I've ever known. I miss him like crazy this year because certain funny things will happen that no one else would really find the humor in except him. It's also because of him that me and Kelly Wendt have become such good friends. I owe him a lot.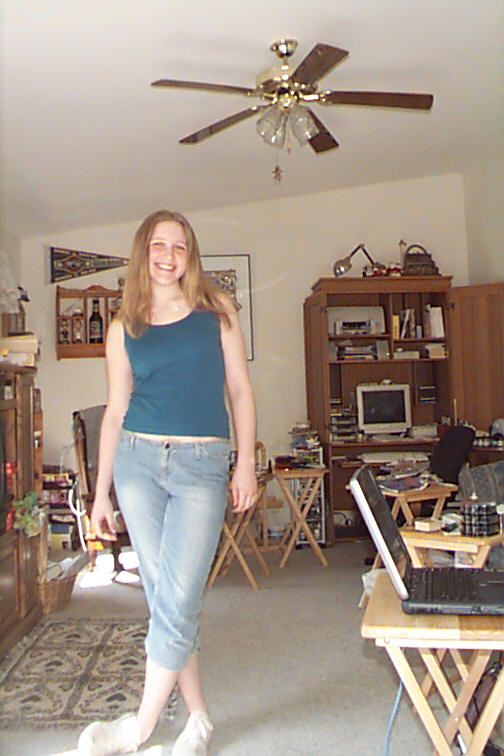 how's my hair? So nice and straight...I like how my hair looks but I don't like to think about what I ended up doing that day. I went to see the Scorpion King. I will leave it at that.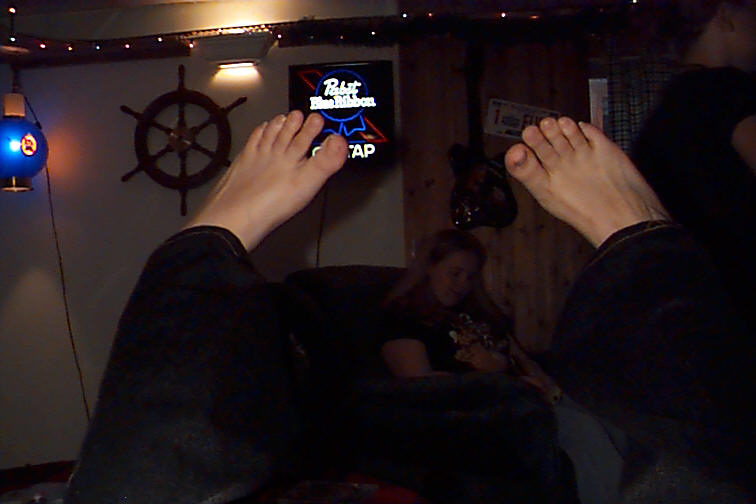 Here's a random picture of my feet, which Sam says are scary. I like my feet. But then again, they are my feet. haha my feet! what about em? lol I guess you had to be there. Nick might remember. Man am I easily amused! But I think you already knew that.
Swim picture. kicks butt. nuff said.